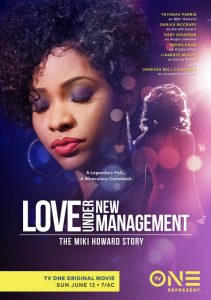 The most highly rated Unsung story told is now a movie.
"It's a film full of inspiration. You watch this woman hit rock bottom not once, not twice, but a couple of times; and then have to pick herself back up and put herself back together and take her family with her." Teyonah Parris says. "I think that it's incredibly inspirational, and that we all, like Miki was saying, can relate to it on some level. I think people will learn from it, I think people will begin to heal from it."
The movie features Howard's hit songs, including title inspired "Love Under New Management," "Come Share My Love," and her duet with Gerald Levert, "What Love Is" that are all sure to remind you why Miki Howard's presence in music is not to be forgotten, and that she certainly deserves the recognition.
The film progresses at a fast pace, highlighting moments in Howard's life that led to her success and her downfall. It features palpable renditions of the singer's love life, her experience with drug abuse, and how everything she went through affected her family and ultimately her career.
The feature shies away from sugar-coating the hit maker's dark times and Howard says she had no issue baring her troubles for the world to see. "I feel like an honest person. I'm a very honest person. I have no reason to lie. I don't feel like anything that happened to me is abnormal," the singer said. "Everything doesn't usually happen, but one of those things happens to all of us."
Visit us @writersblockproduction.com to download music from this great artist. Her musicwill truly inspire you. Please leave a like, a comment and share this post. Follow us at Facebook.com/wblockpro Twitter @paulaperry1621 and @wblockpro You can follow us on all social media platforms as well. #writersblockproduction